Welcome
Bienvenue
Coming from key figures in the Ontario oil and gas industry, the Brittain collection contains around 10,000 pages of documents (notes, correspondence, diagrams, photographs, and more!) and more than 400 historical maps.
Issue de personnalités clés du secteur pétrolier et gazier ontarien, la collection Brittain contient environ 10 000 pages de documents (notes, correspondance, diagrammes, photographies et plus!) Et plus de 400 cartes historiques.
Project Origins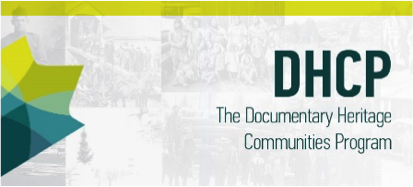 Funding for the project came from Library and Archives Canada's Documentary Heritage Communities Program (DHCP). The DHCP provides financial assistance for Community organizations activities to increase awareness and access to Canadian documentary heritage to ensure that this history is preserved and documented (LAC).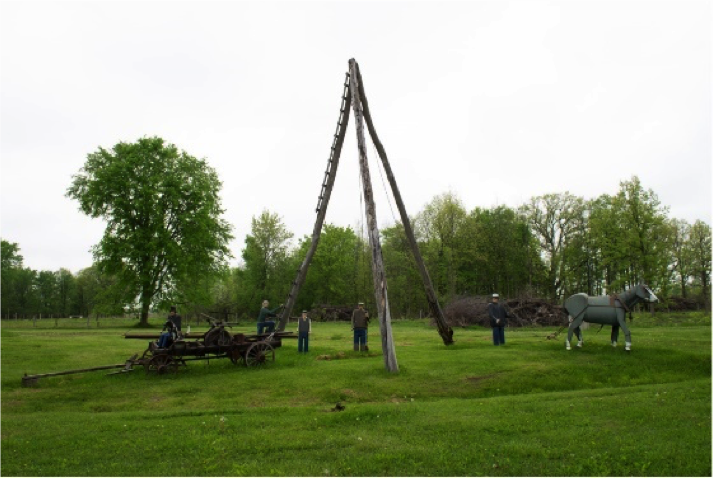 Inspiration for this project came from the donation of the collection from Charlie Fairbank at Fairbank Oil Company. The Fairbank family has been operating oil wells in Oil Springs, where North America's first oil well was dug in 1858, for over 150 years. Fairbank continues to use authentic technology from 1863 when his great grand-father started operations in Oil Springs, which still work today, to showcase the original methods used to pump oil and offers insight into how the oil industry operated in the 1800s. The Brittain Archive project similarly allows a rare glimpse into the past of the petroleum industry and exhibits a part of that history that would otherwise have been lost.
Who We Are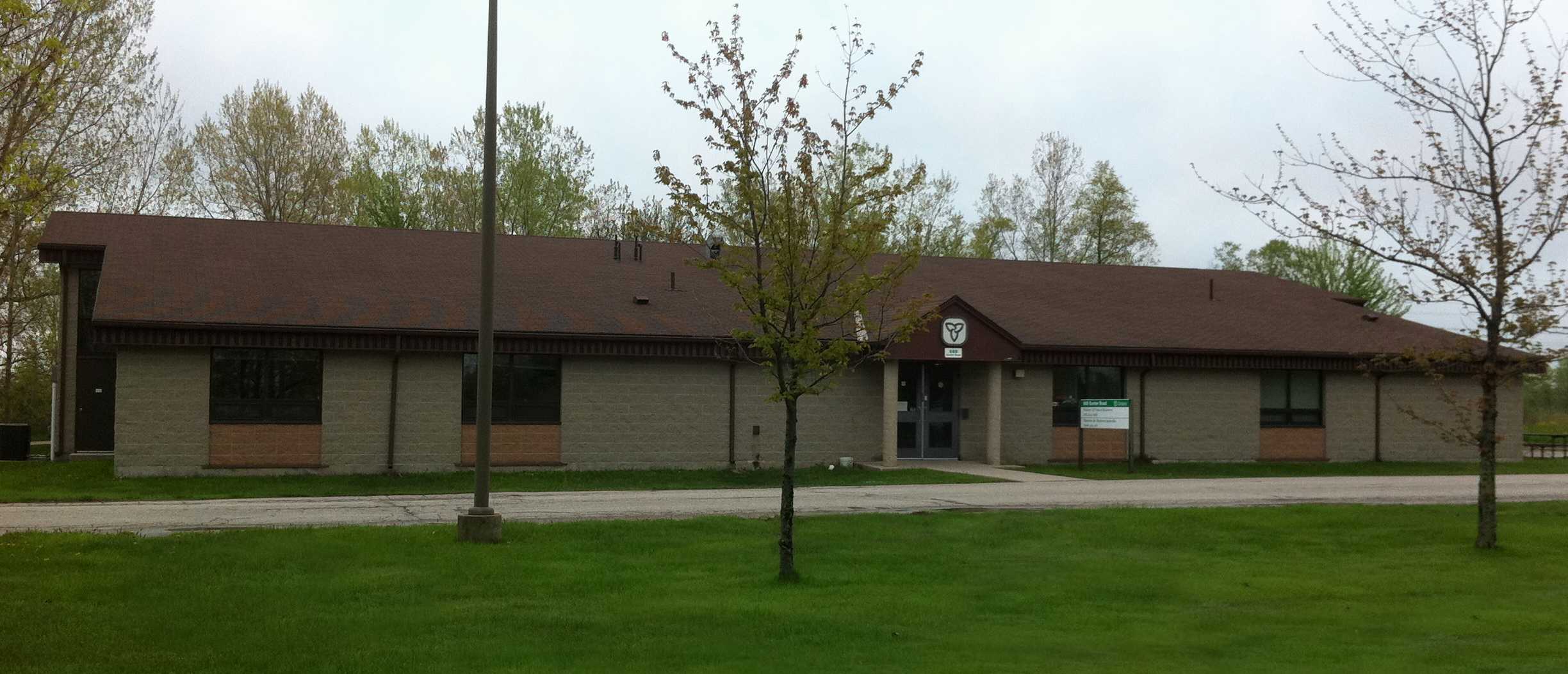 The Oil, Gas and Salt Resources (OGSR) Library is a geoscience research and resource centre that operates under the Ontario Oil, Gas and Salt Resources Trust, a non-profit organization established by the Ontario Oil, Gas and Salt Resources Act to "provide information management relating to oil, natural gas and salt resources; funding of research, surveys; laboratory facilities; and operations relating to oil and natural gas exploration, production and storage in geological formations, and salt solution mining"[1]. This mandate includes maintaining and improving access to information relating to oil, natural gas and salt resources.
The Library creates and provides access to geology databases and reports, houses well records and core samples, and digitizes well logs and other data. As part of that, documenting the history of oil and gas within Ontario is of great importance. The Brittain project increases public awareness of the oil and gas industry in Ontario and aids in current and future exploration and subsurface investigations. Geographic and well information from the Brittain collection will also be used to add to the Library's other databases and linked to existing well records and other resources such as rock cores. As much of the material in this collection is original (e.g. hand drawn documents, maps with hand-drawn info and well points), it would not be available anywhere else.
Project Team
Jordan
Project Manager
Along with Liz, Jordan oversaw the Brittain project, tracked and evaluated progress, and led quality assurance.
Liz
Project Coordinator/GIS Technician
Liz started the Brittain project, established training and documentation, and helped oversee it to ensure timely progress.
Nicole
Archivist
Nicole digitized the documents in the Brittain collection and catalogued all the images to add metadata and note spatial references, along with organizing the documents to be stored.
Rhys
GIS and Database Assistant
Rhys was responsible for digitizing and georeferencing the maps in the Brittain collection, as well as organizing the maps for storage.
Sama
Information Systems Assistant
Developer and UI designer for the Archives web portal and database.
Bayden
Summer Student Archivist Assistant
During the summer Bayden assisted in digitizing and cataloguing the Brittain collection.
What's in the Collection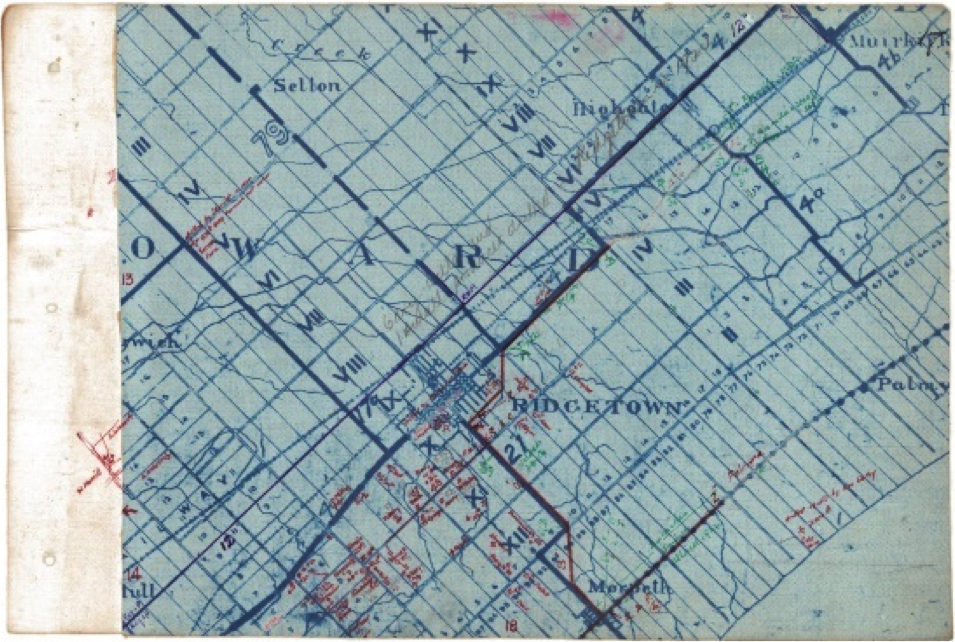 Contributions to Ontario geology and research by Brittain and his colleagues were extensive. Much of the collection is composed of original material, including handwritten notes annotated documents, and maps that do not exist elsewhere and have never been digitized. This offers a unique opportunity to explore the history of the Ontario oil and gas industry.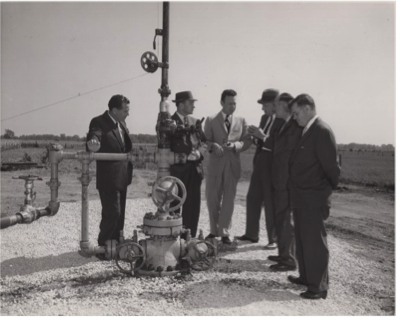 The contents of this collection will be of interest not only to Ontario energy users, municipalities, environmental historians, archivists, geologists and university students/researchers, but to anyone looking to learn more about oil and gas in Ontario, particularly in past decades.
In total there are around 10,000 pages of documents and over 400 historic maps in the collection –when all the documents were lined up, they were over 4 metres long. Several documents were not digitized due to confidentiality, but the vast majority are available through this portal. Southern Ontario tends to be the focus for the majority of the documents, but other areas of Ontario and even other provinces are represented, with some correspondence with the United States. About 25% are tied to specific Ontario wells, many of which are now abandoned. Dates on the documents range from the late 1800's to the 1980s, but most are from the 1940's to 1960's.
| | |
| --- | --- |
| Document Type | Number of Documents |
| Business Files | Over 60 business files such as delivery tickets, statements, and invoices |
| Certificates | 5 certificates |
| Correspondence | Roughly 2,500 pieces of correspondence, mostly letters from W. D. Brittain, J. A. Sanson, R. B. Harkness and other government employees, oil/gas companies, and members of the public/civilians |
| Diagrams | 18 technical diagrams |
| Drafts | Over 600 pages of drafted letters and reports |
| Forms | More than 50 government and well record forms |
| Journals | 15 handwritten journals |
| Legislation | More than 800 pages of Acts and Regulations made under them, including the Mining Act, Energy Act, Assessment Act, Ontario Energy Board Act, and Natural Gas Conservation Act |
| Maps | Over 400 historic maps, many with hand-drawn details |
| Media | Release More than 30 government and organizational news releases |
| Notes | Over 300 pages, mainly handwritten |
| Photographs | 19 photographs |
| Production Figures | Over 300 page of production figures for oil and gas |
| Publications | 4 publications (not under copyright) |
| Reports | Over 2000 pages of reports on oil and gas in Ontario |
| Sketches | Almost 50 sketches, most of which are hand-drawn |
| Well Files | More than 500 historic well files |
Almost all of maps are of areas in Ontario, with some larger ones showing larger areas of Canada. Some show large sections of Ontario, but a significant number show towns and the surrounding areas, and even smaller areas with visible lots and concessions. Most are resource maps showing locations of wells or outlining oil and gas pools. While a couple of maps are completely hand-drawn, several others have hand-drawn detail in ink or pencil added to existing maps, such as well points and other details. Many maps do not contain dates, but still offer valuable well and geographic information.
| | | |
| --- | --- | --- |
| Political | 71 | Political maps focus on boundaries between countries, provinces, or counties, often using colours to emphasize boundaries. |
| Physical | 9 | Physical maps focus on an area's geography (mountains, rivers, elevation) and will often have shaded relief to show mountains and valleys. |
| Topographic | 10 | Topographic maps show physical landscape features but uses contour lines to indicates changes. Spaces between the lines indicate elevation changes, with lines that are closer together showing steep terrain. |
| Resource | 322 | Resource maps show specific natural resources/economic activities in an area using symbols or colours. |
| Thematic | 13 | Thematic maps do not show natural features but instead shows information on a specific 'theme'. |
Who was William Brittain?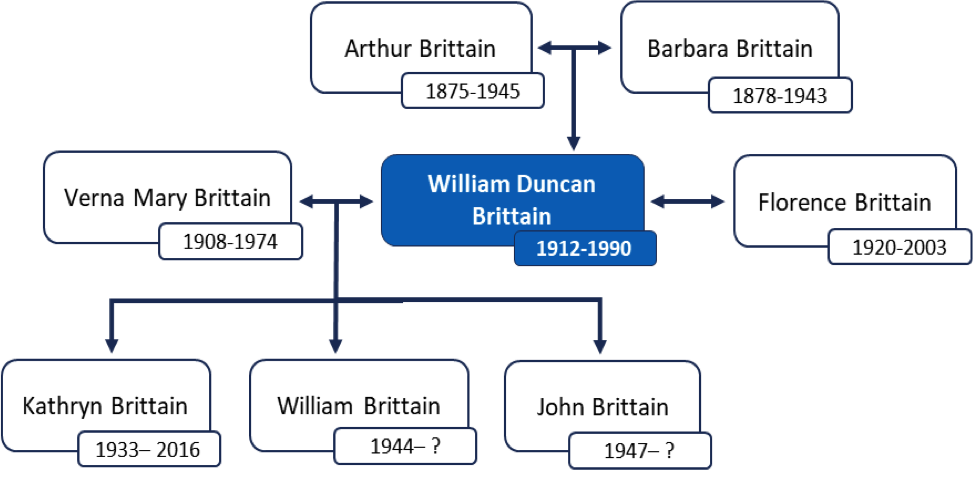 Born March 26, 1912 in Wyoming, Ontario to Arthur and Barbara Brittain, William has ties to Liverpool on his father's side and Wyoming on his mother's.
Verna Mary (O'Brien) and William were married November 24, 1932 and had three children together, a daughter named Kathryn in 1933, William in 1944, and John in 1947. After she passed away in 1974, he married a second time, to Florence (Bryson).
After his graduation from the University of Toronto in 1933 with a degree in Chemical Engineering, Brittain worked as a local inspector based in Wyoming. During WWII, he was an aeronautical engineer with the Royal Canadian Airforce, responsible for maintaining, repairing, and modifying aircraft.
After the war, he worked for the Petroleum Resources Division of the Ontario Ministry of Natural Resources until 1973. He started as an Oil and Gas Well Inspector in 1945 and became Chief Inspector in 1954. From 1960 to 1966 he was Branch Director, returning to Chief Inspector until his retirement. His work with the government revolved around oil and gas exploration, well drilling, oil and gas production, and well plugging.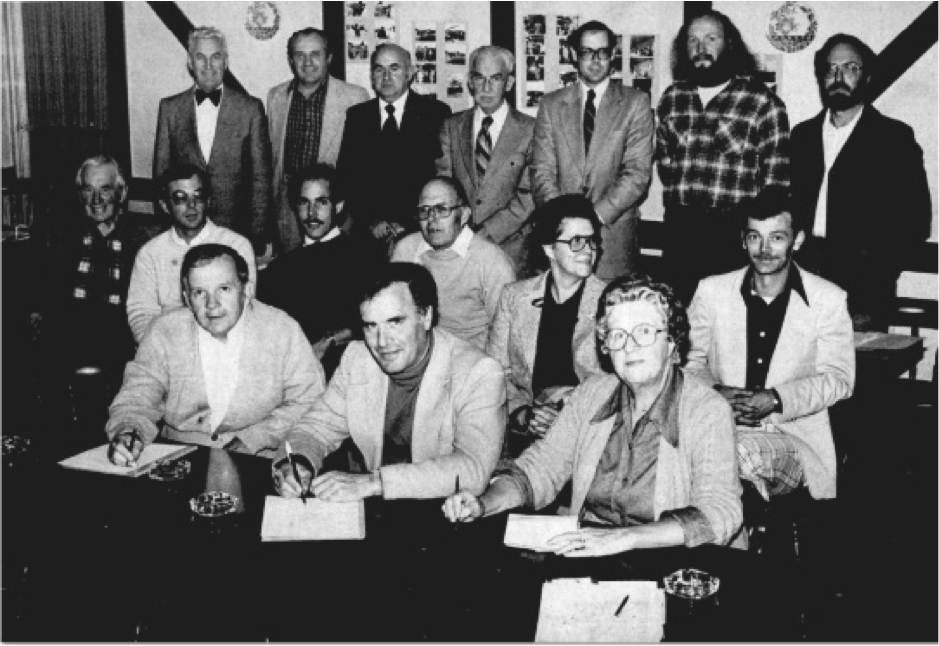 After his graduation from the University of Toronto in 1933 with a degree in Chemical Engineering, Brittain worked as a local inspector based in Wyoming. During WWII, he was an aeronautical engineer with the Royal Canadian Airforce, responsible for maintaining, repairing, and modifying aircraft.
After the war, he worked for the Petroleum Resources Division of the Ontario Ministry of Natural Resources until 1973. He started as an Oil and Gas Well Inspector in 1945 and became Chief Inspector in 1954. From 1960 to 1966 he was Branch Director, returning to Chief Inspector until his retirement. His work with the government revolved around oil and gas exploration, well drilling, oil and gas production, and well plugging.
During the 1950's, William Brittain was also Chief Inspector of Drilling and Production for the Ontario Fuel Board. Reporting to A. R. Crozier, he was mainly responsible for inspections but also acted as a technical advisor to the board on areas like transmission lines, storage areas, secondary recovery, and well drilling and abandonment. He was a member of the Association of Professional Engineers of Ontario since 1953. Outside of work, he enjoyed fishing, golfing, cards, and sports television, along with winemaking as a hobby.
Following his retirement from the province, Brittain worked as a self-employed consultant for private industries, the government, and landowners. He volunteered as a consultant with CESO (Canadian Executive Service Overseas), and 1977 he travelled to Port Moresby in Papua New Guinea to help draft regulations for that county's Petroleum Act.
Brittain was also involved more locally with The Petrolia Discovery, as a part of their Technical Committee, and a member later in the 1980's. For his work in the oil and gas field he was awarded the Ontario Petroleum Institute (OPI) Award of Merit in 1981, and had been considered for an OPI director in 1976. Nine years later, in 1990, he passed away in Wyoming, Ontario, where he had been born.
Other Key Individuals in the Collection
Col. Robert Bruce Harkness: Harkness was the Natural Gas Commissioner for the Ontario Department of Mines during the 1930s, returning to this role after the end of WWII until the 1950s. Passing away in the 1970s, he was the recipient of the 1991 OPI Award of Merit.
James A. Sanson: Sanson worked as an Oil Well Inspector in Petrolia during 1930's and 1940s, and a Well Driller's Act Inspector in the 1940s. The collection contains a significant amount of correspondence from Sanson. A. O. Richmond, Sanson's taxi driver, is also mentioned.
A.R. Crozier: Crozier worked as the Assistant to the Natural Gas Commissioner (Robert Bruce Harkness) during the 1930s, taking over the role as Acting Natural Gas Commissioner when Harkness was away from 1941 to 1944. Later in the 1940s Crozier served as Fuel Controller and as Chairman of the Ontario Energy Board during the 1950s and 1960s.
Our Process
The Brittain collection was originally part of a much larger collection of historical material about the Ontario petroleum industry held by Charlie Fairbank. His archivist had organized the documents and maps and also provided us with an index of the collection's contents. Once at the library, the documents and maps were placed into horizontal (maps) and vertical (documents) filing cabinets in the order they were in the boxes.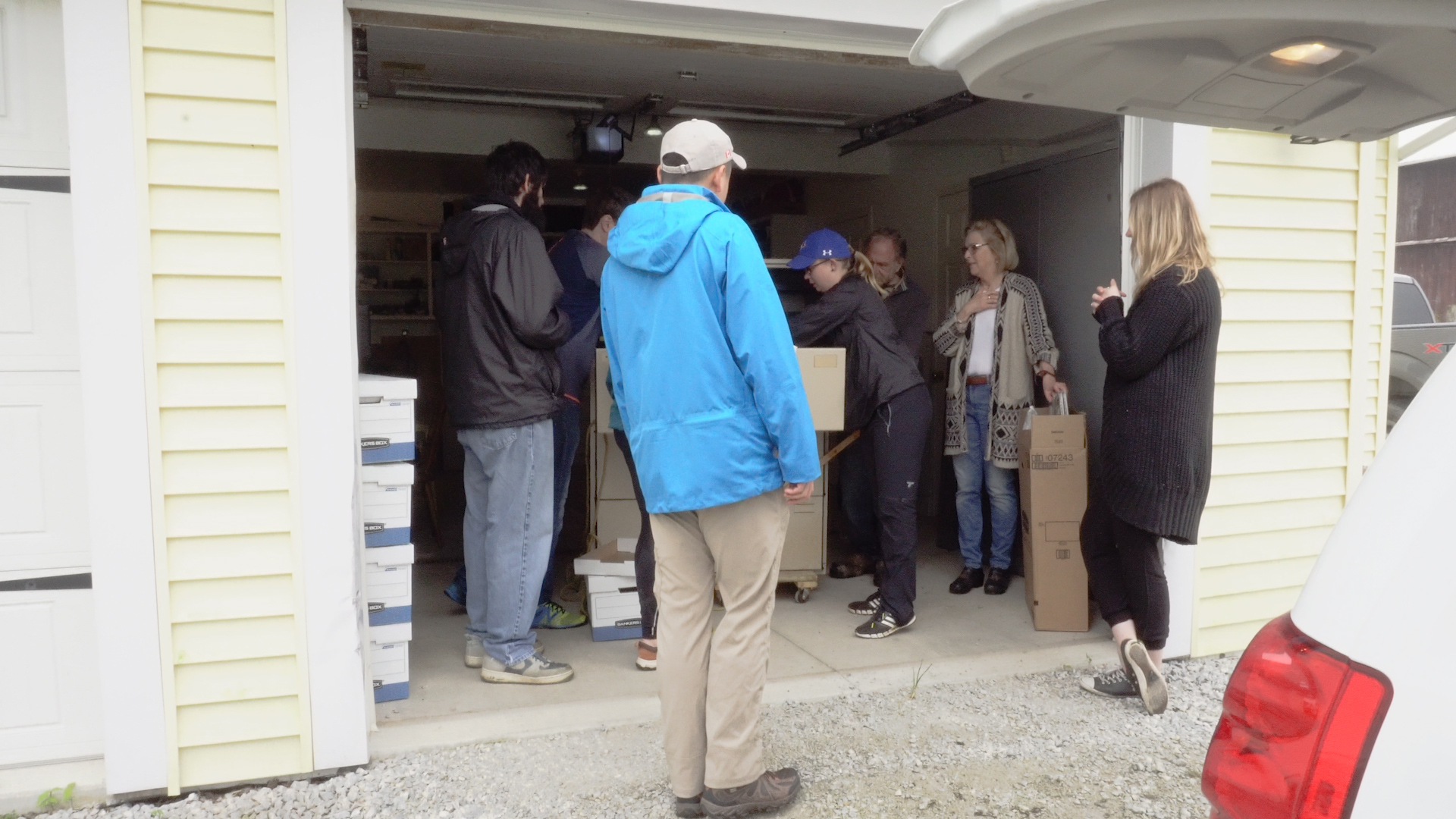 The Brittain project fell into three main components – digitization of the documents and maps, special referencing, and preservation, each of which are explained below. Weekly meetings allowed regular progress checks to assess progress and goals, address any issues early on, and modify tasks as needed. Collaborative planning and ongoing quality assurance throughout ensured that the project stayed on track and tasks were completely consistently and efficiently.
Digitization
The first aspect of the Brittain project was digitizing all the material in the collection. Both documents and maps were scanned using 300 DPI lossless imaging. A resolution of 300 DPI meant high quality scanned images with an image size that could easily be worked with. Scans were saved as PNG images, a format that uses lossless compression, meaning that no quality is lost, and is a preferred format for digitizing.
Scanning was done in greyscale or colour depending on the information on the page. Documents mainly contained black text so greyscale was used, while maps frequently used colour to show various features. Both sides of each page were scanned, even for blank backs (pages that did not contain any information were edited to be white to reduce file size). Before digitization all documents and maps were reviewed for confidentiality issues such as copyright or personal information.
The majority of collection's documents are in relatively good condition, and care was taken to address any issues before documents were damaged. Pages with tears or rips or on thin paper were scanned on a flatbed scanner to prevent damage. Extremely faded or stained documents were addressed through post-scanning editing to maximize viewability. Multi-page documents were commonly held together by rusty paper clips, staples, and even straight pins, which were removed to avoid damaging the scanner and replaced with plastic coated paperclips to retain organization without further damaging the pages.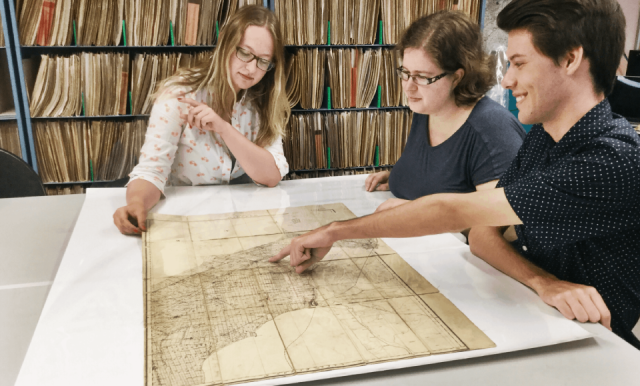 The condition of the maps varied more than for the documents as most had been rolled or folded for long periods of time. Many have damage of some kind including creases, tears, stains, animal damage, discoloration, tape, and brittleness due to being rolled tightly, or are overall quite fragile. Extra care was needed in digitizing these maps – we used a document carrier sheet (white backing sheet with a transparent top sheet) to keep maps flat during scanning a well as protecting frayed edges and other physical damage and protect the scanner from contaminants. Large maps were scanned by two people to support the map as it was scanned.
Before digitization, the maps were carefully laid out to slowly unroll them with map weights to minimize potential damage during scanning. As for documents, post-scanning editing was used to minimize the visual impact of stains and discolouration. Maps bound in map books were carefully unbound to scan individual maps flat and rebound after digitization.
Spatial Referencing
As part of cataloging the scanned images, maps were geo-referenced so that they can be overlaid onto a modern-day map. This step was one of the ways the Library added usability and value to the documents. Comparing the collection's historic maps with modern-day maps allows you to see where abandoned wells are or changes in geography, like how a river has changed course.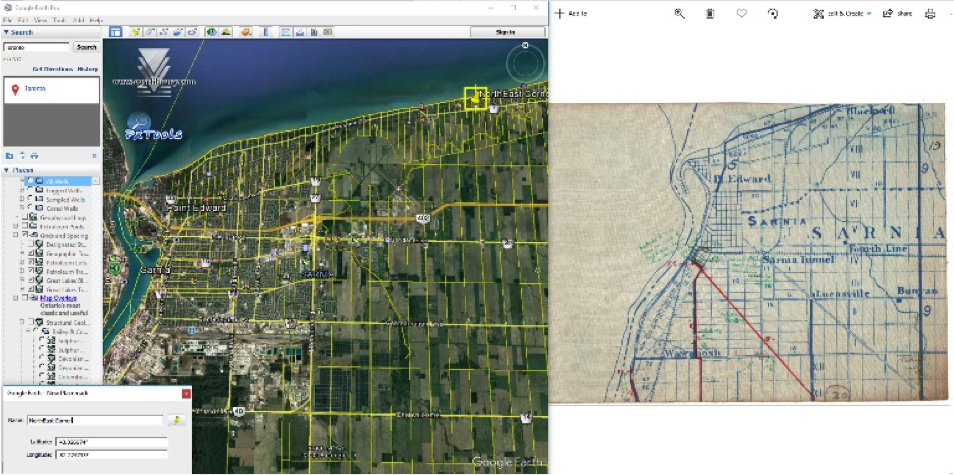 Georeferencing was completed using Google Earth and the Library's Px Tools Data layers for Google Earth (showing lots/concessions and the locations of all wells). Maps were visually compared to Google Earth and their location was verified using geographic information (such as lots and concessions on the map or landmarks such as the location of towns and rivers) to match points on the map to Google Earth. Since rivers and towns change over time, these markers were only used for initial matching or when no lots and concessions were given.
Resulting special coordinates (World Geodetic System 1984 – WGS84) were added to the catalogue and used to display the digitized maps on the portal's web map. The web map will allow the public to compare historic geologic interpretations from scanned georeferenced maps to present day ones, all within a simple online web map. Though not georeferenced, any geographic information (i.e. county, township, lot, concession) mentioned on documents was also noted and included in the catalogue to allow documents to be linked to regions and activity within them.
Preservation
The third component of this project was preserving the documents and maps in the collection, through cataloguing digitized documents/maps and organizing/storing the physical copies.
Databases for both the documents and maps are intended to add functionality and meaning to the collection as a whole through metadata. Both the document and map databases include fields for title, author (or publisher for maps), date published, type of document or map, geographic information, and a longer description of the item. Document and maps that show or can be linked to Ontario wells were also marked.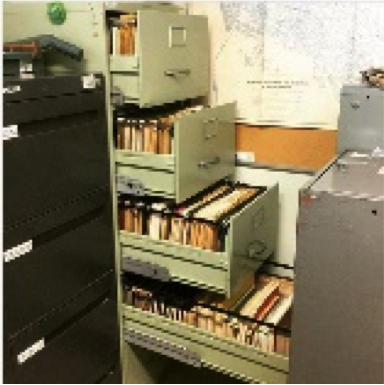 Map metadata also includes cartographer and whether the map is under private, public, or government copyright. Geographic metadata for documents included country, province/state, county, township, lot, and concession. Map geographic metadata covered continent, country, province, county, township, municipality, and latitude/longitude.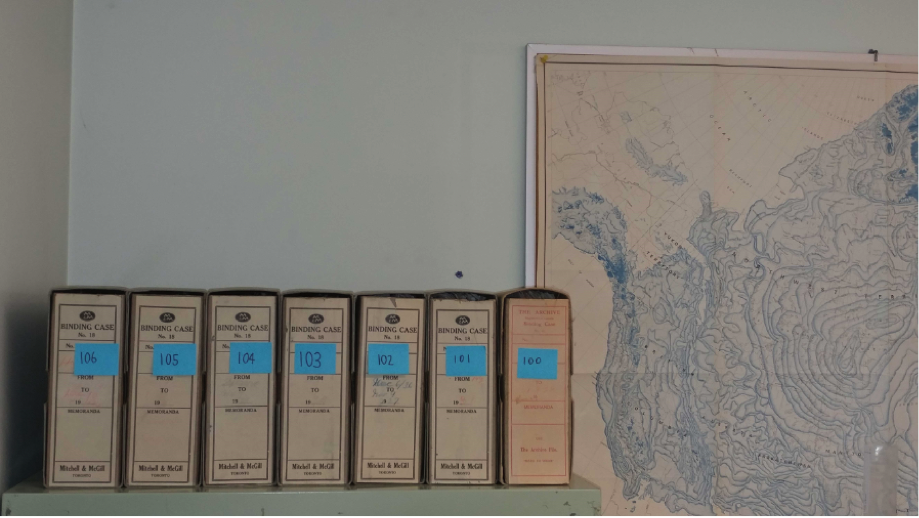 Cataloguing was used to better preserve the collection, as simply scanning documents only provides a copy, while associated metadata results in better preservation and easier and more efficient access by the public. Simply scanning historic documents ¬takes away their potential for incorporation into ongoing, present-day research and education. To truly increase access and awareness of Canada's local documentary heritage, it is important to create methods or products that add-value to the archive.
Physical documents and maps were kept in the order the Library received them from the Fairbank Oil Company. Documents are stored in hanging folders stamped with their respective folder number in a filing cabinet to prevent bending them. Most of the maps are stored in two horizontal filing drawers, while maps too large for these drawers are stored in a vertical cabinet.
Acknowledgments
TThis project has been made possible in part by the Government of Canada's Documentary Heritage Communities Program through Library and Archives Canada. Ce projet a été rendu possible en partie grâce au Programme de contribution pour les collectivités du patrimoine documentaire offert par Bibliothèque et Archives Canada.

Special thanks to Charlie Fairbank at the Fairbank Oil Company for his generous donation of the materials digitalized, spatially referenced, and preserved for this project.